Bonnie Gaunt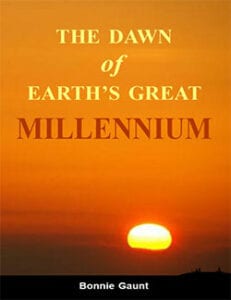 This is the last of 15 books that Bonnie wrote before she passed to the other side in 2012. The covers, with descriptions of her other 14 books, can be viewed here, but they will need to be ordered from your local bookstore or online dealer. Also, at this site is a biographical sketch of Bonnie, plus 18 of her studies, which are also below. Her 18 studies may be viewed, printed, or downloaded for free at that site and here as well.
We have all of her books. In addition we printed all of her studies and organized them into a notebook. I have read all of her books and studies. She is one of my favorite authors.
The Lord gifted her with insight into decoding number patterns in the Hebrew and Greek texts of the Bible. She has a unique way of making it easy to understand for us today. This last book provides depth of revelation into what is ahead while Messiah comes forth in a people. A transformation within this transition time into the Millennium Age.
Eric J. Ellis
A paperback copy of this book may be ordered (while supplies last) free of charge
by writing to:
Sons to Glory
131 Wyeth Drive
Harvest, AL 35749
Sign up for Notices of New Postings (free)
Your email will not be shared. You will not receive financial pleas or ads. Expect a brief email notice every 3 to 12 weeks. Unsubscribe at any time.